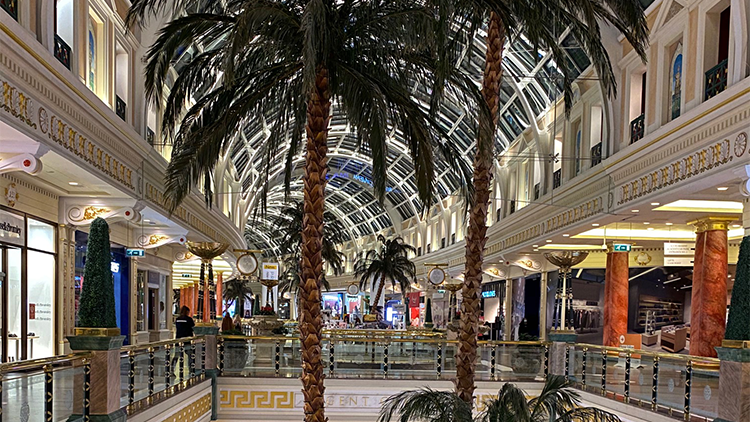 Vending and refreshments specialist Broderick's (www.brodericks.co.uk) has secured a string of high-profile retail vending contracts, netting 14 shopping centres nationwide, including the Trafford Centre, which is on Manchester-based Broderick's home turf.
The five-year retail contract will see Broderick's operating and servicing an estate of 170 machines across shopper sites including Glasgow, Bristol, Lakeside, Nottingham, Derby, Stoke on Trent and Newcastle. Broderick's won the contract having already proved its capabilities with the Trafford Centre's staff vending contract.
Further adding to its retail portfolio, Broderick's is also celebrating a win with Manchester's Arndale Centre, in what MD John Broderick describes as ''an important strategic location'' for the business, due to the student population.
Each retail centre has snapped up the option to join Broderick's Pay4Vend app network. Pay4Vend allows shoppers to make contactless product selection and payment – a well-received innovation to support COVID compliant health and safety measures.
The app is also a strong tool for retail centres' own marketing programmes, with promotional tools that incentivise customer loyalty and a firmly engaged database to raise awareness of products and promotions. App users upload credit, receive discounts with every vend, earning loyalty reward points and the bonus of a virtual raffle draw to win exciting prizes: from vouchers for big name fashion brands, to free snacks to power their shopping.
Leveraging the app, Broderick's has developed a 'connected community' of over 20,000 app users who can access the app benefits across the country – at work, travel, rest and play. In Manchester – a strategic hotspot for Broderick's – the app is already enabled at key sites from the city's universities, to Manchester Airport, Trafford Leisure Centre, GLL sites, NHS Trusts, offices and call centres. This model is being rolled out across the UK.
Technological advances in remote telemetry ensure Broderick's will boost revenue for its new retail partners with real-time sales data shaping product ranges to ensure best-sellers are fully stocked and tailored to each shopping centre.
The Broderick's team undertook in-depth demographic and shopper preference research to develop bespoke product ranges. This has created regional variances: in the Trafford Centre, for example, there's a strong bias to Northern brands such as Vimto. The company is also reflecting consumers' current fondness for nostalgia with a delectable selection of traditional Pick 'n' Mix style sweets from local Sweet Ideas.
Serving audiences that had historically been under-represented, including vegans, vegetarians and people observing Halal – as well as the family shopper – Broderick's has also introduced a range of healthier drinks and snacks. The company's annual Battle of the Brands will engage consumers in helping to decide lines that will be stocked into the future. Big brands are also at the forefront of innovation in vending: Broderick's and Coca Cola have struck up a new partnership, with engagement brought to life via the Pay4Vend app.
Seasonal plans include on-app promotions for calendar dates including Black Friday and Christmas, as well as a dedicated Veganuary Vending machine.
Managing Director of the family-owned Broderick's, John Broderick, commented: ''We're absolutely delighted with these high-profile account wins, including the Trafford Centre, the real jewel in the crown for me, which has long been a personal ambition.
''We've already had fantastic feedback from the shopping centres. Having already won the Trafford Centre staff vending account, we could offer firm assurance that a Broderick's vending machine is always fully stocked and serviced, with zero downtime. We do whatever it takes to ensure every sales opportunity is maxed out for our retail partners, so if that means restocking twice a day through the weekends, that's what we do. Watch this space for further innovations we'll be showcasing in these exciting locations.''